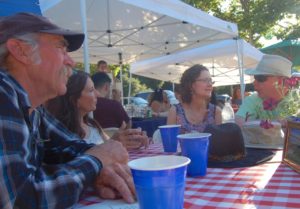 This is what we have planned for 2019;
RESCHEDULED DATE TO BE ANNOUNCED
Paint Night in the Courtyard
Friday, August 16, 2019 6 pm to 9 pm
Paint a picture of the Miller Red Barn with Nacho Moya
7516 Eigleberry St. Suite 100, Gilroy, CA
you will enjoy wine, and light appetizers,
while being serenaded under the stars
limited to 70 people, all supplies included. $50 per person
follow this link to reserve your easel.
All funds raised will go to The Miller Red Barn
Community Education Center.
Bring home your own beautiful painting of
our historic Barn.