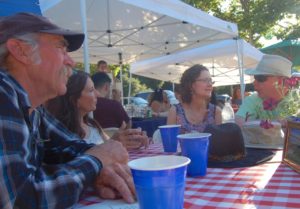 This is what we have planned for 2019;
Café Bologna Grand Opening
Don't miss out on this;
                   Café Bologna will have its Grand Opening, and closing  on Saturday, August 3, 2019.  
This world renown Italian restaurant will serve a feast of traditional recipes from the Emilia-Romagna region of Northern Italy.  Seven young cooks will be traveling from Bologna, Italy to Gilroy, California to prepare a  sumptuous dinner for you and nine of your honored guests.  This is the chance of a life time!  
Your evening will begin at 5:30 pm, with award winning local wines, an antipasto platter of Italian cheeses, specialty deli meats, olives, and much more, as well as a Bocce game on your private court.  During your special evening you will enjoy live Italian music.  Following your game, your Maître d'hôtel (Sam Bozzo) will escort you to your private dining room, and the feast will begin.  You will enjoy homemade pasta and ragù sauce (the recipe is a family secret), a hearty main course, and dessert,  prepared under the watchful eye of chef de cuisine (Judy Bozzo).  All paired with outstanding wines.
         All you need to do, is be the top bidder and this special evening will be yours.  
                All funds raised will go to The Miller Red Barn       Community Education Center.
Paint Night in the Courtyard
Friday, August 16, 2019 6 pm to 9 pm
Paint a picture of the Miller Red Barn with Nacho Moya
7516 Eigleberry St. Suite 100, Gilroy, CA
you will enjoy wine, and light appetizers,
while being serenaded under the stars
limited to 70 people, all supplies included. $50 per person
follow this link to reserve your easel.
All funds raised will go to The Miller Red Barn
Community Education Center.
Bring home your own beautiful painting of
our historic Barn.
 Fall Family Fun Day … a wonderful FREE event for children and
parents featuring; face painting, games,
meet 4H and FFA members,
painting projects, cut-out pictures
(date to be announced)